A New Way to Find Me
by Sandra Ierardi – Agent, REALTOR
Many of you know of my software consulting, business coaching and digital marketing agency background. Today, I wanted to share some fresh and exciting news with you. Through a long, demanding and rewarding process I'm proud to announce I have earned a NH Real Estate License AND have also been inducted into the elite group of National REALTORS® Association.
Today's competitive real estate market is fueled by marketing! So how does my hi-tech, hi-energy marketing background and my lifelong passion for real estate fit together? The most successful agents use current marketing tools with relevant business techniques to reach their target Buyers and Sellers. I couldn't be on a more perfect business collision course to further serve YOU! 
Proud to be a part of the well-known Berkshire Hathaway HomeServices – Verani Realty group, you now have a another way to reach me; Sandra.Ierardi@Verani.com. Please visit my agent website at Verani Realty –   https://SandraIerardi.verani.com.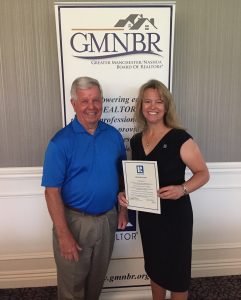 With Greater Manchester/Nashua Board of Realtors, President Bob Mongan above
and Berkshire Hathaway HomeServices – Verani Realty, Regional Manager Michael Scanlon and new inductees below.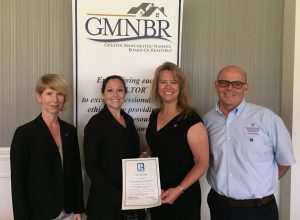 Oh, you can still find me at Sandra@BlackDiamondStarStudios.com.  My digital marketing agency helps many small businesses including aiding new agents with their own branding and online marketing. Please visit BlackDiamondStarStudios.com to see how I can support not just your web designs, but also the social, video and email marketing media venues that drive traffic to your site. Staying on top of website marketing and SEO tips and tricks is your key to business success.
My cell phone remains the same – 603-494-6540
Having a new partnership with the well known Berkshire Hathaway HomeServices – Verani Realty, with it's amazing brand name recognition, I'm armed with the top marketing tools to help you buy, sell or find any home through any Berkshire Hathaway HomeServices location worldwide.
Enthusiastically, I'd be happy to help you, your friends or family with your real estate journey. Referrals are very much appreciated.
Thank you all for your support along the way.
Warmest regards,
Sandra